Julia Parsons is a British food writer and the author of one of the UK's most successful food blogs 'A Slice of Cherry Pie' (www.asliceofcherrypie.com), which she has been writing since 2006. The blog has been featured in Delicious and BBC Olive magazines and has been named as one of the UK's top 10 food blogs by The Times and Good Housekeeping websites. In 2009 it was featured among 50 of the world's best food blogs by The Times, and Julia's first book, also titled A Slice of Cherry Pie was published by Absolute Press in 2010.
Julia's self-taught cooking style incorporates traditional homely British family food inspired by her upbringing, with a modern influence to keep it fresh and vibrant.
Julia is very active in the food blogging community and founded the UK Food Bloggers Association (www.ukfba.co.uk) in 2007, which has over 200 members and is continually growing. In 2009 the association took a stall at Covent Garden's Real Food Market and attracted huge amounts of coverage including The Guardian, as well as Speciality Food Magazine, View London, and even the New York Times.
Julia has also appeared as a judge at The Galvin Cup, an annual mixology competition organised by glamorous London restaurant Galvin at Windows.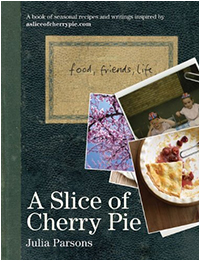 A debut book from one of UK's finest food bloggers. With the internationally acclaimed successes of blog to book to big screen of 'Julia and Jules', and, before that, Clotilde Dusoulier's 'Chocolate and Zucchini' (the original food blog to be published as an international best seller) comes 'A Slice of Cherry Pie', the first major food blog to book from this side of the Atlantic. It's a faithful reworking of all the elements of a blog which have brought Julia a large and loyal following. Her writing interweaves food with beautifully composed evocations of the places, people and memories which inform her recipe creations: a mix of modern rustic dishes inspired and inflected by a love of eating and sharing. A stunning backdrop of arresting food photography from Cristian Barnett and assemblies of text montages, family snapshots and the author's own photographs provide a perfectly balanced visual echo to an assured and passionate voice. A book which promises to be the first of many from a gifted new food writer, eagerly awaited by thousands of followers all over the world.